Kobi Marenko
Chief Executive Officer, Co-Founder and Director
Jacob Marinka, who is known as Kobi Marenko, is an entrepreneur with over 20 years of experience in leading technology and media startups from seed stage to acquisition. Mr. Marenko was the founder and President of Taptica, a mobile DSP listed on the London Stock Exchange and acquired by Marimedia, and founder and CEO of Logia, a mobile content platform acquired by Mandalay Digital. Leading tech and media startups from seed to acquisition for over 20 years. Mr. Marenko holds a BA in Philosophy from the Tel Aviv University. Mr. Marenko was appointed as a director on November 4, 2015.
Noam Arkind, PhD
Chief Technology Officer, Co-Founder and Director
Dr. Arkind has more than over 10 years of experience in R&D and holds a Ph.D. in Applied Mathematics from the Robotics Lab at Weizmann Institute of Science. Prior to Arbe, Mr. Arkind led the algorithm development at Taptica and the Space IL control system. Mr. Arkind holds a B.Sc. in Applied Mathematics from Bar Ilan University, a M.Sc. and PhD in Mathematics and Computer science from the Weizmann Institute of Science. Mr. Arkind was appointed as a director on November 4, 2015.
Gonen Barkan
Chief Radar Officer
Prior to joining Arbe as Chief Radar Officer in 2022, Gonen Barkan led a global team responsible for radar development and technology across General Motors. Responsible for all aspects of radar technology development, product development and integration into GM vehicles, Gonen focused on future retail-autonomy programs and collaborated with the entire radar ecosystem – Tier 1s, Tier 2s, and start-ups – engaging with more than 80% of the automotive radar landscape. Barkan also led GM's in-house development of multiple generations of imaging radars, targeting L4 autonomous driving. Gonen holds a BSc in Electrical Engineering and Computer Science from the Ben Gurion University.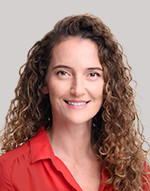 Karine Pinto-Flomenboim
CFO
Karine Pinto-Flomenboim, Arbe's CFO, has more than twenty years of financial experience working with multinational publicly traded companies. Prior to joining Arbe, Karine served as CFO at TIBA Parking Systems, a leading manufacturer of parking access and revenue control systems. She has held the positions of Head of Corporate Finance Planning and Analysis, and Director of Business Controlling at Caesarstone Ltd., where she played a leading role in the company's IPO, and she managed various financial positions at Applied Materials, Inc. and at Intel. She holds a master's in economics from the Hebrew University of Jerusalem.
Ram Machness
Chief Business Officer
Ram leads the product management and the engagement with key customers. He has over 25 years experience in embedded systems and the semiconductor industry. Prior to joining Arbe, Ram managed the business development, customer engagement and product marketing of several wireless connectivity product lines at Texas Instruments. His professional experience also includes roles in system engineering and R&D management.
Maya Bar-On, Adv.
VP Legal & Company Secretary
Maya has extensive experience legal advisory to start-ups and VCs. Prior to joining Arbe, Maya was an in-house General Counsel and Portfolio Manager at Plus Ventures, she holds an MBA, from The Interdisciplinary Center (IDC), and a Law and Computer Science degree from the Bar Ilan University.